RELATED PRODUCTS: Thermold 30 Rd Magazine for the Ruger® Mini-14®, Thermold 26 Rd Magazine for the Ruger® Mini-Thirty®, Swivel Stud QD Adapter
PLEASE NOTE THAT DUE TO EXTREMELY HIGH DEMAND, SHIPMENT OF THIS PRODUCT WILL BE DELAYED BY 5 MONTHS.
When your order is ready to ship, we will send you an e-mail requesting you to call us to confirm your ship-to and bill-to addresses, plus get your final payment information again. Be sure to provide a valid email address and make sure your spam filter allows emails from samson-mfg.com. If we cannot reach you, you will be skipped over until you contact us.
Orders are processed and shipped in the order that they are received, and will show as 'pending' until ready to ship. Your credit card is not charged until your folding stock is shipped.
Please review our A-TM FAQ for additional information. While we work to decrease lead time and expedite your order, we thank you for your patience.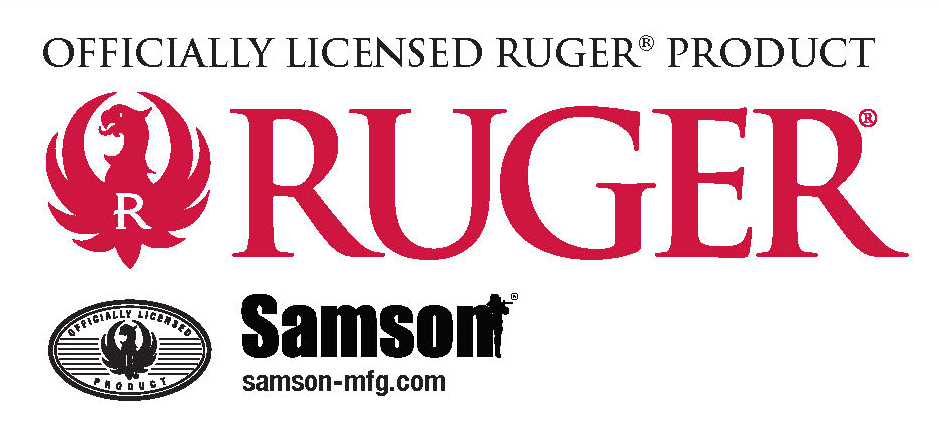 WARNING:
The A-TM Folding Stock comes assembled and ready to drop-in your original Ruger® Mini-14® or Mini Thirty® receiver, bolt assembly and barrel.
Any attempt to disassemble the A-TM Folding Stock by the customer will void the warranty.
The A-TM Folding Stock is the perfect complement to your Ruger® Mini-14®. Using the original molds and wood from the original stock maker, this is not a copy or a reproduction. The A-TM Folding Stock is compatible with most Ruger® Mini-14® and Ruger® Mini Thirty® models
NOTE: The Folding Stock is designed for Mini-14® rifles
with serial numbers 181-xxxxx and higher
and Mini Thirty® rifles with serial numbers 580-xxxxx and higher.
(Mini-14® and/or Mini Thirty®,
heat shield, sights, sling swivel, and magzine are NOT included)
A-TM Installation Instructions:
For answers to frequently asked questions, click on the FAQ tab.
Stainless Steel construction

Walnut stock

Drop in fit

Designed for Mini-14® rifles with serial numbers 181-xxxxx and higher, and Mini Thirty® rifles with serial numbers 580-xxxxx and higher
Made in USA



Specifications
(Folding Stock Only):
Length: 19.5"

Height: 5.5"

Width: 3.5"

Weight: 4.2 lbs.

Length: 29.0"

Height: 5.5"

Width: 2.25"

Weight: 4.2 lbs.

Approximate overall length of extended A-TM Folding Stock and Mini-14® with an 18-inch barrel: 38"
Due to the high demand for the A-TM Folding Stock, expect delays in shipping your order. All orders will be processed on a first come, first served basis. Credit card/debit card charges may be placed on hold by your bank for up to 30 days.
Ruger® Mini-14® and Mini Thirty® are trademarks of Sturm, Ruger & Co., Inc. Samson Manufacturing Corp. is a manufacturer of firearms parts and accessories and is not associated with or sponsored by Ruger.
A-TM Folding Stock FAQ
There are multiple small/minor as well as larger parts that make up the stock. Once put together they are not meant to be taken apart – thus voiding the warranty if taken apart. We have highly trained individuals here that do the assembly, using devices made specifically for this assembly process.
Q: When will my credit card be charged?
A: A hold may be placed on your card depending on your bank. When we are ready to ship your order, we may need to contact you to get your credit card information in order to process your order.
Q: What kind of wood is used and how is it finished?
A: We are using walnut supplied by Ruger. The walnut has been sealed, plus finished with 2 coats of polyurethane to bring out the natural beauty and uniqueness of the wood. Due to the nature of walnut, expect variations in both color and grain from stock to stock. Walnut, like most natural woods, will darken over time and develop a deep lustrous patina.
Returns will not be accepted, or exchanges approved based on the color alone.
Q: Are the A-TM and B-TM folding stocks legal in my state?
A: There are a myriad of firearms laws around our nation, unfortunately. As such, Samson Manufacturing does not provide legal advice to anyone regarding any state's firearms laws. It would be up to you to learn and understand your state's firearm and firearm products laws. We are not in a position to offer any legal advice.
Q: Will it fit my rifle?
A: The A-TM stock will fit most models and calibers of the RUGER® Mini-14® and Mini Thirty® other than the AC-556 (see below). May not be compatible with the 180-series Mini-14®.
Q: Will my aftermarket magazine fit?
A: Some aftermarket magazines may not fit, therefore we recommend using a Ruger® factory magazine for best results.
Q: How close is it to the original?
A: Cast components are coming off the original Ruger molds and wood is also supplied by Ruger. New production wood is Walnut instead of the original Birch, and pistol grips are Polymer where the originals were Bakelite. The retention screw uses an Allen-head instead of the original slotted head design. Other than that, it is the original stock. The A-TM stock has a length of pull of 13.5" just like the original.
Q: When will it be available?
A: Initial orders began shipping in March 2020. Due to the extremely high demand, delivery will be delayed by several months. Orders are shipping in the order that they are received, and will show as 'pending' until ready to ship. While we work to decrease lead time and expedite your order, we thank you for your patience.
Q: Can I get it in Blue?
A: You can get an A-TM stock in any color you want as long as it is Stainless. In other words...NO.
Q: Is it available outside the U.S.?
A: Due to pending changes in export regulations, the A-TM may eventually be available without the need for an export license.
An export license is currently required to ship outside of the U.S. (this means you, Canada). We are working with our International distributors on the possibility of selling outside the U.S. We have no plans to offer sales to International customers through our website.
If/when additional information becomes available, we will add it to our FAQ.
Q: Will it be available with the AC-556 selector switch cut?
A: We expect to have an AC-556 compatible model available as a Samson exclusive later this year. Stay tuned for updates as they become available.
Q: How will the A-TM Stock affect the Classification of my rifle?
A: Installing this stock on your Mini-14® or Mini Thirty® rifle could create a rifle configuration that is illegal in some states. Before purchase or installation, verify with local law enforcement that feature-based restrictions in your state or locale do not prohibit installation.It is the customers responsibility to determine if the addition of the A-TM stock will change the legal status of their rifle in the jurisdiction in which they reside. We make gun parts, not legal determinations. If you live in a freedom-challenged part of the world, please check your federal, state and local ordinances before purchasing.
Customer Ratings & Reviews
Ratings Snapshot
Would recommend this product.
Would recommend this product.
Dream Come True
AJ
Location: Iowa
Date: July 3, 2020
I was 12 years old when I asked my dad to buy me a Mini-14 because I'd seen it on the obvious TV show. To my surprise, he got it for me and it's been a mainstay in my collection ever since. I was severely disappointed to find that original Ruger folding stocks almost unobtainable. And now, over 14 years later, I've finally got what I'd always wanted. From a nostalgia and aesthetic perspective, it's perfect. It looks and feels just like it should for what it is, and with modern, sturdier materials. As for performance, some of the older guys at my local gun shop who used old Ruger GB models at the local prison told me horror stories about the original run of stocks and it made me a touch apprehensive. Although I intended to shoot it from the hip like on the show, so I didn't really care. The first time I took it out, I ran a mag through with the stock out and it felt just like one of my ARs. Almost no perceptible recoil and seemingly no loss in accuracy. The first time I brought it to the range, everyone wanted to shoot it, folded and unfolded. So, this is well worth the reasonable price. Samson's customer service was also top notch and answered all of my dumb questions. There is literally no reason to not buy this stock.
ATM stock I Pity the fool
Eric
Location: South Carolina
Date: June 15, 2020
Yes do it so cool
Suddenly, it's 1980
wjkuleck
Location: NE Ohio
Date: June 15, 2020
I've had a Mini-14/20GB folder; this stock is indistinguishable from the original. Its fit and function are flawless. I have but one quibble: it would be nice if the wood was more attractive, but the originals were plain so one can't complain. Recommended highly.
Awesome Mini 14 Upgrade
Gylo
Location: Sussex, United Kingdom
Date: June 3, 2020
It arrived today and looks just as amazing in real life fitted to my Mini 14 straight pull as it looks it the pictures! As someone who grew up in the 80s watching the A-team every week, from the moment I purchased my Mini all I wanted was a folding stock for it. I'm so happy I managed to get one of these shipped to the UK, the quality and finish of the stock is fantastic! Thankyou Samson Manufacturing
It looks cool
Phil
Location: San Bernardino
Date: June 3, 2020
It looks cool but is not even close to the original folding stocks it has very loose tolerances and you have to fiddle with it to open and close it. I have an original folder and an 80s falcon folder both of those are much nicer but you can throw one if these on and keep your original nice or make a real cool truck gun
Love it!
Mike
Location: Seattle
Date: May 19, 2020
I love this stock. The wood is gorgeous and so tight in the best way. The tolerances on are unbelievable... it fits like a perfect glove on my rifle. The stock makes it feel like a totally different rifle and it packs up real tight with the stock folded. Plus, installation was like two minutes. Thank you for the terrific product!
Excellent
Impulse Buy
Location: Elko Nevada
Date: March 29, 2020
Fit and finish is great. Best looking folding stock ever built. Thanks for bringing it back. Gas block with side sling mount anyone?
A-TM stock
Panhead
Location: Northern WV
Date: March 7, 2020
Just like my factory stock with the same play in the butt stock but a lot better wood, looks awesome! If it wasn't for Samson's branding on it ( Where it is in a place you wouldn't even notice ) you cannot tell the difference, in my opinion it's a better stock than before!
Popular Items
FIREARM PARTS & ACCESSORIES