SHIPMENT OF THIS PRODUCT COULD BE DELAYED BY UP TO 2 WEEKS.
Orders are processed and shipped in the order that they are received, and will show as 'pending' until ready to ship. Your credit card is not charged until your folding stock is shipped.

Please review the FAQ tab for additional information.
Transform your factory 10/22®
With the same classic look as its bigger brother, the
A-TM Folding Stock
, our
B-TM Folding Stock
lets you transform your factory 10/22® into a rifle you'd be proud to share with your "Team".
Recommended for use with Optics or High-Profile Sights.
(Ruger® 10/22®, heat shield, sights, and magzine are not included)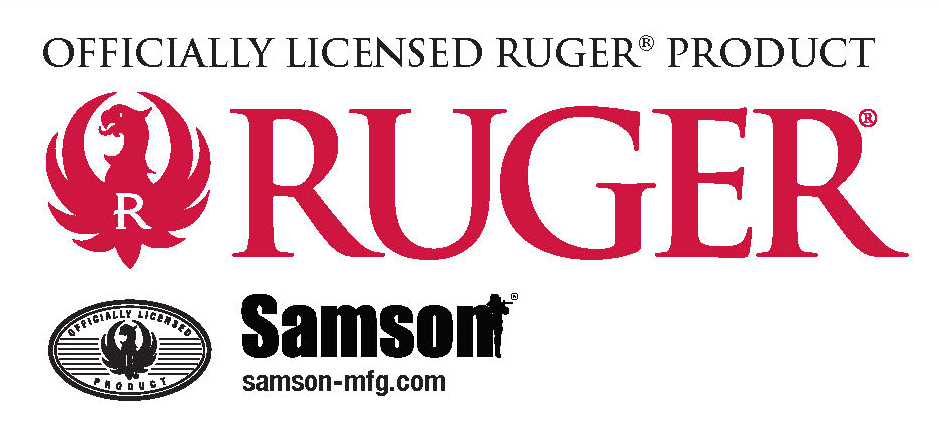 B-TM Installation Instructions:
For answers to frequently asked questions, click on the FAQ tab.
B-TM Folding Stock Features:
Stainless Steel construction

Walnut stock

Drop in fit
Specifications
(Folding Stock Only):
Length: 17.5"

Weight: 2.244 lbs.

Length: 27.0"

Weight: 2.244 lbs.

RUGER® and 10/22® are trademarks of Sturm, Ruger & Co., Inc. Samson Manufacturing Corp. is a manufacturer of firearms parts and accessories and is not associated with or sponsored by Sturm Ruger.
There are multiple small/minor as well as larger parts that make up the stock. Once put together they are not meant to be taken apart – thus voiding the warranty if taken apart. We have highly trained individuals here that do the assembly, using devices made specifically for this assembly process.
Q: When will my credit card be charged?
A:
A hold may be placed on your card depending on your bank. When we are ready to ship your order, we may need to contact you to get your credit card information in order to process your order.
Q: Is the B-TM folding stock legal in my state?
A:
There are a myriad of firearms laws around our nation, unfortunately. As such, Samson Manufacturing does not provide legal advice to anyone regarding any state's firearms laws. It would be up to you to learn and understand your state's firearm and firearm products laws. We are not in a position to offer any legal advice.
Q: How will the B-TM Stock affect the Classification of my rifle?
A:
Installing this stock on your 10/22® rifle could create a configuration that is illegal in some states. Before purchase or installation, verify with local law enforcement that feature-based restrictions in your state or locale do not prohibit installation. It is the customers responsibility to determine if the addition of the B-TM stock will change the legal status of their rifle in the jurisdiction in which they reside. We make gun parts, not legal determinations. If you live in a freedom-challenged part of the world, please check your federal, state and local ordinances before purchasing.
A:
The B-TM Folding Stock will fit any RUGER® 10/22® with a factory contour barrel. The B-TM Folding Stock will
not
fit the 10/22 Takedown® model.
A:
You can get an B-TM stock in any color you want as long as it is Stainless. In other words...NO.
Q: Will it be available for Overseas orders?
A:
Due to pending changes in export regulations, the B-TM may be available without the need for an export license by March 2020. An export license is currently required to ship outside of the US (this means you, Canada). Check our website for additional information as it becomes available.
Customer Ratings & Reviews
Ratings Snapshot
Would recommend this product.
Would recommend this product.
The BEST!
dave
Location:
Date: November 11, 2021
The B-TM is without a doubt the best 10/22 stock I've owned. The wood grain on mine is beautiful, the folding buttstock locks up perfectly, and it LOOKS COOL! It makes all of the other aftermarket stocks look cheap and amateurish in comparison. This stock is just what my 10/22 needed to make it my favorite.
Shut up and take my money!!!
Ronald Dregan
Location: California
Date: Apr3l 28, 2021
This is certainly one of my proudest impulse buys. I saw a picture of it while scrolling through the web and knew I had to have it. Pushed the go button and received it within 2 weeks of ordering. The materials used is superb and the construction is top notch. Buy it! Do it for the Drip!
Wouldn't think I needed on until I got it! Can't live without one now!
Generand
Location: Midwest
Date: January 29, 2021
Haven't been able to put this down since I put it together. DOES NOT fit bull barrels! Spectacular workmanship on this. Feels very natural. Is about an inch shorter than the full size A-team stock. Mine has a factory 16in stainless barrel and it balances right in the middle of rifle with the stock fully extended. Always wanted one on my mini 14 (and now I have one) but never thought of putting it on a 10/22...way to go Samson! Highly recommended, worth the money (as opposed to many things that are out there) worth the wait!! Took about 3 months from ordering to receive for what that is worth, but fantastic communications during the process. Don't delay, you may not be able to own one soon!
stock
rw
Location:
Date: January 11, 2021
I have a Ruger factory folding stock for a Mini 30. I always considered it the best folding stock around. The Samson 10/22 stock follows in that tradition and is outstanding in every way.
Great Mini 30 folding stock
Bi Al
Location: Chino Valley, AZ
Date: January 2, 2021
Once I figured out how to install the A-TM folding stock - it went right in. Nice workmanship on the product. Am still trying to find a 1inch swivel for the rear of the set-up. Everything I've tried is too small.
Amazing stock!
Reg
Location: Henderson, NV
Date: October 6, 2020
This stock looks and feels amazing! The wood is just outstanding on it better then I could have hoped for. It is very sold and put together very well. I liked it so much that I just ordered the A-TM stock for the Mini 14 even though I don't own a Mini 14 at the moment but will be getting one now. LOL Here is the timeline for my stock delivered to me to give some time frame for others maybe. I ordered on July 28th and it was delivered on Sep 25th. Totally worth every day waiting for it to come.
Exceeded all my expectations
Pacnwjim
Location: Bothell, Washington
Date: August 30, 2020
These are so close to the originals made by Ruger. They did a fantastic job on this. I'm blown away at the quality. The stainless materials used to make these is perfect. The wood and finish is excellent. There made to look like a factory folder. Well worth the wait and well worth the money. Exceeded all my expectations.
B-TM Folding Stock
Dave
Location: PA
Date: August 20, 2020
Waited a long time to get it and paid a boatload of cash for it, but absolutely no regrets! This stock is awesome! Fit, finish and materials are all spot on. The stock locks open and closed with no wiggle or wobble. LOP is good also. I threw a micro red dot on my rifle and I'm getting quarter sized groups off a bench at 40 yards! So, yeah. You can still maintain accuracy with this stock. With the launch of the new 10/22 muzzle break all one could hope for is for Samson to develope a decent metal upper handguard for the Ruger! (HINT!) Embrace your inner A-Team and get this stock!
Nothing else compares
Todd
Location: Virginia
Date: July 3, 2020
Just received my B-TM stock. Incredible quality! Finish and materials are unmatched by anything else I have seen. Super sturdy, but not clunky to make it sturdy. Not cheap, but NOT cheap! I have just ordered a second B-TM for my son's 10/22.
Awesome wood, fit and finish!
Craig Campbell
Location: Pittsburgh, PA
Date: June 30, 2020
Received my B-TM stock today Awesome quality wood, fit and finish. Couldn't be happier!
Popular Items
FIREARM PARTS & ACCESSORIES