Put a sling on your B-TM-equipped 10/22® in minutes! The Samson Barrel Band replaces the factory barrel band on Ruger® 10/22® rifles and lets you attach a QD sling swivel. The band can be removed and flipped, allowing the swivel mount to be situated on either the left or right side of the rifle.
B-TM Barrel Band Features:
Replaces the factory Ruger 10/22 barrel band

Integrated QD sling swivel mounting point

Barrel band can be easily flipped around to change QD mounting point from left to right side of firearm
Material: 6061-T6 Aluminum

Finish: Type III, class 2 anodized finish

Length: 0.50"

Width: 1.73"

Height: 2.20"

Weight: 0.9 oz.

Installation Instructions: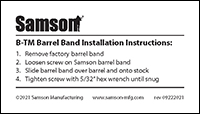 Customer Ratings & Reviews
Ratings Snapshot
Would recommend this product.
Would recommend this product.
very cool
Andrew
Location: southern california
Date: October 8, 2023
high quality, i'm very happy with it. added with all the other parts i have bad ass little ac556 clone. Love that you guys are doing so much for the Mini-14 community.
Good stuff
Spider
Location: USA
Date: November 23, 2021
Bought one and its good quality. Its overbuilt if anything, its thick. Now, I think that it going on a 10-22 that the makers would put a slot fastener in it so that one does not need two different tools to remove the barrel from the stock The allen head fastener just doesn't make it. It helps to insert a flat screwdriver blade in between the opening to help remove the band as is a little stiff to slide over the end of the stock if you don't. No complaints, just observations.
Popular Items
FIREARM PARTS & ACCESSORIES