Have you ever wondered, "What's the best handguard for my AR-15?" The NEW SXT Series Handguards are a rugged, free-floating AR-15 handguard with an M-LOK® attachment system. The simple clamping system uses two cross bolts which fit into the barrel nut for a rapid and easy installation. (The old SXS Series clamping system used a bias block on the bottom to secure the forearm to the barrel nut—which required knurling).
Standard SXT Series Handguards are available in lengths of 4", 7", 9", 10", 11", 12" and 15" (See
Specifications
tab for actual lengths).
Includes:
Hex wrench, barrel nut, and barrel nut wrench
Easy to install mount clamping system
Free float design
Material: 6061-T6 aluminum
Finish: MIL-A-8625 type III class 2 anodizing
For additional specifications click on the Specifications tab
Made in New Hampshire USA

Installation Instructions: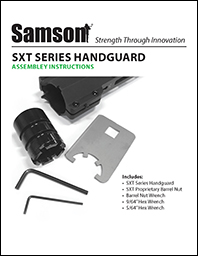 Size

Actual Length

Attachment

Weight with
Barrel Nut (oz)

ID (in)

OD (in)

4"
4.125"
M-LOK
7.89
1.25
1.60
7"
7.25"
M-LOK
9.84
1.25
1.60
9"
9.25"
M-LOK
11.05
1.25
1.60
10"
10"
M-LOK
11.50
1.25
1.60
11"
11"
M-LOK
12.29
1.25
1.60
12"
12.625"
M-LOK
13.28
1.25
1.60
15"
15"
M-LOK
15.25
1.25
1.60
Customer Ratings & Reviews
Ratings Snapshot
Would recommend this product.
Would recommend this product.
Nice upgrade
Kevin
Location: Los Angelss
Date: June 29, 2022
I bought this for my CA compliant sig m400 cuz the stock handguards awful, it fits WITHOUT NEEDING TO SWAP THE BARREL NUT so dont waste your time. Just take off stock handguard then slip sxt on and tighten the screws. The barrel nuts are identical on my specific AR cant speak for all AR's. Very happy with the sxt handguard, highly recommend over stock sig m400 handguard.
Outstanding SIG M400 Option!
Jim D
Location: NH
Date: January 2, 2022
I bought the SXT to put on my M400 TREAD. The TREAD is notorious for being difficult to upgrade, but the SXT handguard was a perfect fit! The installation was simple and the guard fits seamlessly. The SXT eliminates the basic shortcoming of the stock Sig handguard, which requires a small Picatinny rail to mount backup iron sights. That places the front and rear sights on different planes…but with the SXT the sights now sit completely in line. The Samson works with the existing barrel nut (although the package comes with a nut and the wrench to install it) and installation took less than 5 minutes. The side screws and the bottom set screw make a very secure fit. Samson customer service was very responsive when I emailed a question (less than 12 hours to respond) and the product is outstanding in fit and finish. I also appreciate that the Samson logo is discrete - unlike other brands that turn the handguard into a bill board advertisement. I will be buying more Samson products in the future — but this is the best M400 upgrade I have found!
SXT 15"
GeorgeD
Location: MD
Date: January 25, 2021
Improved barrel nut attachment point making the handguard free floating. Attachment screws are on the side making access easier for assembling/disassembling of the rail. I love my Samson Mfg rails and have them on every rifle.