Newly redesigned with integrated steel QD point, 7 sided M-LOK® and chamfered leading edge. Sleek and rugged.
The Samson DPMS G2 SXT handguard is a free-floating handguard with an M-LOK® attachment system. The simple clamping system uses cross bolts that fit into the proprietary barrel nut for a rapid and easy installation. NOTE: This is a G2 handguard designed to fit G2 receivers. Will not fit .308s with a fixed front sight.
Includes:
Hex wrench and barrel nut for the DPMS G2 Handguard
Easy to install mount clamping system

Free float design

Material: 6061-T6 aluminum

Finish: MIL-A-8625 type III class 2 anodizing

ID: 1.40 in.

OD: 1.80 in.

Weight: 14 oz.

Made in USA
Installation Instructions: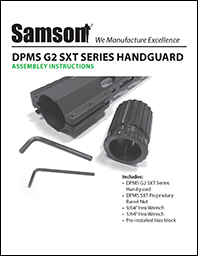 Customer Ratings & Reviews
Ratings Snapshot
Would recommend this product.
Would recommend this product.
Quality!!!
Flanker
Location: The U.S. Nation of Colorado
Date: Apr44l 9, 2021
Although I haven't purchased one yet, I can see nothing but quality in all Samson products that I have viewed. Once my gun account gets back up to speed in a couple of weeks, I will be ordering the DPMS Gen-II handguard. I have been all over the Internet looking for this item and thus far, this is the most informative and impressive of the lot that I have found. I especially like the Aim Point selection as I own three such red dot sights. I am forwarding Samson's Webpage to others.